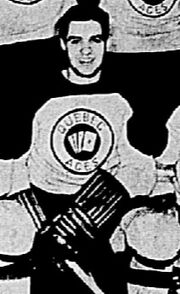 Felix "Rollie" Rossignol (born October 18, 1921 in Edmundston, New Brunswick) is a retired Canadian professional ice hockey forward who played 14 games in the National Hockey League for the Montreal Canadiens and Detroit Red Wings.
He played amateur hockey in his hometown of Edmundston until 1939-40 when he joined the junior Verdun Maple Leafs for a season. Rossignol then played for the Washington Eagles in 1940-41 before joining the Quebec Aces in 1941-42. He played three seasons for the Aces. In 1943-44, when they won the Allan Cup, Rossignol scored an amazing 23 goals and 21 assists in just 24 playoff games.
Also in 1943-44 the Montreal Canadiens, who owned Rossignol's pro rights, lent him to the Detroit Red Wings for a game as an emergency injury replacement. He scored an assist.
In 1944-45 he played 5 games for Montreal, scoring 2 goals and 2 assists. He was traded back and forth between Montreal and Detroit, finally ending up with the Red Wings. He played 8 games for them in 1945-46, scoring a goal and 2 assists.
In his NHL career, Rossignol played in 14 games and scored 3 goals and 5 assists.
He played for the Providence Reds in 1946-47 and in 1947-48 until he broke his leg early in the 1947-48 season. He missed the rest of that season and all of the next.
When he returned in 1949, Rossignol went back to the Quebec Aces for a season. He then played senior hockey in eastern Quebec and northern New Brunswick until he retired in 1963.
External links
[
]
Felix Rossignol's career stats at The Internet Hockey Database