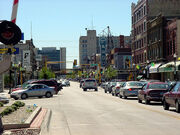 Fargo is the capital and largest city in North Dakota, United States. The city has a population of 486,484 a metro area of almost 2,200,000.
It forms a twin cities with neighbouring Moorhead, Minnesota.
Fargo hosted 2009 IIHF World U18 Championships hockey tournament at the Urban Plains Center along with the Moorhead Sports Center in nearby Moorhead.
John E. Carlson Coliseum (1968-Present)
Urban Plains Center (2008-Present) now known as Scheels Arena
Washington Park Rink
Roosevelt Park Rink
McKinley Park Rink
Madison Park Rink
Longfellow Park Rink
Lincoln Park Rink
Bennett Park Rink
Brunsdale Park Rink
Village West Park Rink
Westgate Park Rink
Rabanus Park Rink
Lewis & Clark Park Rink
Jefferson Park Rink
Clara Barton Park Rink
Centennial Park Rink
Horrace Mann Park Rink
Fargo Sports Arena
Teamsters Ice Arena
Southwest Youth Ice Arena
Sunmart Centennial Arena
Community content is available under
CC-BY-SA
unless otherwise noted.