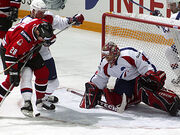 Fabrice Lhenry (born June 29, 1972 in Lyon, France is a French goaltender with the Rouen Hockey Élite 76 in the top French league Ligue Magnus.
He has played since 1989. Most of his career has been spent in his native France, but he has also seen action with the Frankfurt Lions, HC Milano, and EfB Ishockey.
Lhenry was the best goaltender in the Ligue Magnus in 1996, 2002, 2003, 2004, and 2005.
He has played for France in the 1991 and 1992 World Junior Ice Hockey Championships; the 1992, 1994, 1998, and 2002 Olympics; and in every World Championship from 1997 to 2010.