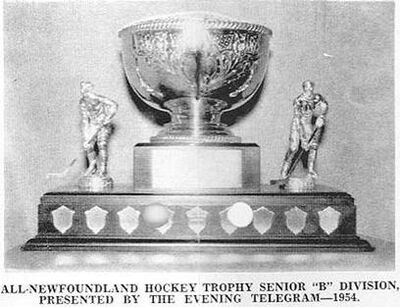 The Evening Telegram Trophy, a Newfoundland and Labrador award, was donated by the Herder family in 1954 and was named after the St. John's newspaper that they owned. The family had already donated the Herder Memorial Trophy, the top hockey award in the province.
The Evening Telegram Trophy was originally given to the Senior B champion. Senior B did not allow out-of-province imports. Senior A teams, which played for the Herder, could use imports.
After the Senior B category was discontinued in 1959 the trophy was also retired. It was ressurected in 1962 for two seasons for the winner of the Eastern Division.
It was again retired until 1968 when it was awarded to the first place team in the regular schedule. This continued until 1990 when the senior league folded.
Starting in 1993 it was again awarded to the Senior A team with the best record.
Trophy Winners
SENIOR B WINNERS
EASTERN DIVISION WINNERS
FIRST PLACE IN REGULAR PROVINCIAL SENIOR SCHEDULE
TEAM WITH BEST SENIOR "A" RECORD