Eveleth is a town of about 3800 people in northeastern Minnesota.
The United States Hockey Hall of Fame is located here (not to be confused with the Hockey Hall of Fame, in Toronto). The city has long been noted as a powerhouse of hockey talent. They have won several state championships the latest being in 1998. During the 1950s the Eveleth Bears dominated high school hockey in Minnesota, garnering a number of state records including most consecutive state championships (4: 1948–51), most consecutive championship games (5: 1948–52) and most consecutive tournament appearances (12: 1945–56) despite the district's tiny population. They also have the most successful high school hockey program in the United States.
Frank Brimsek was born here in 1913. He was an NHL Hall of Fame goalie. Also born here were John Mariucci (in 1916) and John Mayasich (in 1933). More recently, Eveleth produced Mark Pavelich, who played on the 1980 U.S. Olympic team that memorably defeated the Soviet Union and Finland en route to a gold medal. Eveleth is also home to the pro father and son goalies Sam and Pete Lopresti.
Eveleth also has the world's largest authentic hockey stick, standing at 107 feet and weighing 3 tons.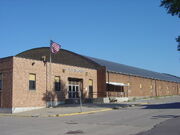 External Links
Edit
Community content is available under
CC-BY-SA
unless otherwise noted.