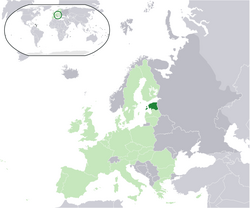 Estonia is a country in northeastern Europe on the Baltic Sea.
It has a population of about 1,340,000 and the capital is Tallinn.
The country was independent from 1921 to 1939 and again from 1991 on. From 1939 to 1991 it was part of the Soviet Union. It is bordered by Latvia to the south, and Russia to the east.
Estonia

Info

Rinks

Players

Referees

154

Population

1,340,021

Indoor

8

Total

950

Male

--

Capital

Tallinn

Outdoor

5

Male

353

Female

--

IIHF Since

February 17 1935

Junior

512

Female

85
Since independence form the Soviet Union the mens national team has played in primarily Division I and II IIHF tournaments. They attempted to qualify in ice hockey for the Olympic Games in 2006 and 2010. Their U20 and U18 teams have also participated in IIHF tournaments. They have 2 ice hockey leagues the Top league being the Meistriliiga, and the 2nd being the Esiliiga.
The Estonian Ice Hockey Federation was founded in 1921. Estonia was a member of the International Ice Hockey Federation in 1937-46. During this time Estonia never sent its national team to the World and European Championships.
The national team played its first game in 1937, losing 1-2 to Finland in Helsinki. Three years earlier, Estonia had staged its first national hockey championship.
After becoming part of the Soviet Union, the best Estonian club (Dynamo Tallinn) played in the top division of the Soviet league from 1946 to 1953.
National Teams
Leagues
See Also