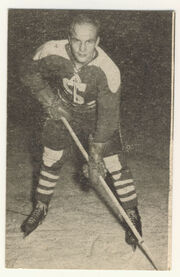 Erwin Grosse (also known as Irwin Gross) (born February 3, 1931, in Melville, Saskatchewan - died October 13, 2007) was a Canadian centre who played senior amateur and minor pro hockey from 1951 to 1964.
He played junior hockey for the Humboldt Indians in 1948-49. Jack Adams of the Detroit Red Wings brought him and goalie Glenn Hall east to join the Wings' junior farm team the Windsor Spitfires.
In 1951 Grosse joined the Shawinigan Falls Cataractes of the Quebec Senior Hockey League where he played for two seasons. He also played for the Charlottetown Islanders of the Maritime Major Hockey League for four games in 1952-53 but was ruled ineligible.
The Quebec Aces traded five players to the Cataracts in 1953 for Grosse, in part to replace Jean Beliveau. He helped the Aces win the Edinburgh Trophy in 1953-54. Grosse then returned to the Cataracts for three more seasons.
In 1957 Grosse returned to his junior city to play for the Windsor Bulldogs. He played for them until 1964 except for one season with the Clinton Comets. The Bulldogs won the Allan Cup in 1962-63.
Grosse retired in 1964.
Community content is available under
CC-BY-SA
unless otherwise noted.