Honoured Member of the Manitoba Hockey Hall of Fame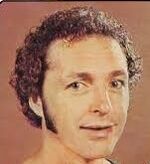 Ernest Alfred Linton Wakely



Ernie Wakely was a goaltender in the National Hockey League for the Montreal Canadiens and St. Louis Blues. He also played for the Winnipeg Jets, the San Diego Mariners, the Cincinnati Stingers, the Houston Aeros, and the Birmingham Bulls of the World Hockey Association.
Playing Career
He was goaltender for the 1958–59 Memorial Cup winning Winnipeg Braves of the MJHL.
Wakely enjoyed his most memorable season in 1969–70 when he took over in St. Louis for the legendary goalie Glenn Hall. Wakely appeared in 30 games, won 12, and recorded a Goals Against Average of 2.11 in leading the Blues to the Stanley Cup Finals against the Boston Bruins. Boston swept the Blues in four straight games to win the Stanley Cup.
The following season, Wakely played in 51 games, won 20, and posted a 2.79 GAA. Two years later, he jumped to the fledgling World Hockey Association to play with the Winnipeg Jets and former Chicago Black Hawks star Bobby Hull. No other goalie played more games in the WHA and his 16 shutouts are also a WHA record.
Name engraved on the Stanley Cup in 1965, 1968 with Montreal (Did not play any games).
Career Statistics
Regular Season
Playoffs
Awards & Achievements
Gallery
External Links