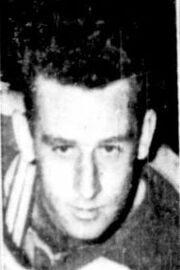 Ernest Charles Roche (born February 4, 1930 in Montreal, Quebec) is a retired Canadian professional ice hockey defenceman who played four games in the National Hockey League for the Montreal Canadiens.
He played for the Montreal Junior Canadiens from 1946 to 1950, winning the Memorial Cup in 1950.
Roche turned pro with the Cincinnati Mohawks in 1950-51 and was called up to the Montreal Canadiens for the only four NHL games of his career (he was held scoreless).
He played until 1961 with a number of minor pro teams, most notably the Montreal Royals. He retired in 1961 after playing with the senior Windsor Maple Leafs of the Nova Scotia Senior Hockey League.
External links