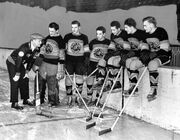 Ernest "Ike" Klingbeil (born November 3, 1908 in Hancock, Michigan – June 17, 1995) was an American professional hockey defenceman.
Klingbeil played for the University of Michigan in 1932-33. He then joined the Michigan-Ontario League, playing for teams in Detroit from 1933 to 1936.
The Chicago Blackhawks called him up for 5 games in 1936-37, where he scored a goal and 2 assists. He then played for senior teams in Portage Lakes until he retired in 1941 to join the American miltary for World War II.
Klingbeil died in Colorado Springs, Colorado, in a military hospice, at the age of 86. He was buried in Fort Logan National Cemetery, Denver.
Community content is available under
CC-BY-SA
unless otherwise noted.