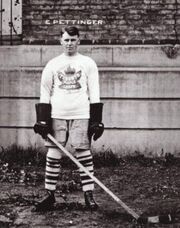 Eric "Cowboy" Pettinger (b. December 14, 1904 in North Bierley, England – d. December 24, 1968) was a professional ice hockey left wing who played 98 games in the National Hockey League with Ottawa Senators, Toronto Maple Leafs, and Boston Bruins.
He played junior hockey for the Regina Pats from 1921 to 1924. After that he played senior hockey for the Regina Victorias and Fort William.
While playing for Fort William, Pettinger signed with the New York Rangers in September, 1927. Before he played in the NHL his rights were traded to the Toronto Maple Leafs and then to the Boston Bruins. It was with the Bruins that Pettinger started his NHL career in 1928-29.
After playing 17 games for the Bruins with no points, Pettinger was traded to the Toronto Maple Leafs in mid-season. He played one more season with the Leafs before being traded to the Ottawa Senators as part of the King Clancy trade. His 13 games for the Senators in 1930-31 were his last in the NHL.
In total, Pettinger played in a total of 98 NHL games and scored 7 goals and 12 assists.
Starting in mid-season of 1930-31, he played five and a half seasons for the London Tecumsehs. He retired in 1937.
In 1937-38, Pettinger coached at the University of Western Ontario.
References
Edit
Community content is available under
CC-BY-SA
unless otherwise noted.