The Eredivisie is the highest level of competition sanctioned by the Nederlandse IJshockey Bond (NIJB; "Netherlands Ice Hockey Federation").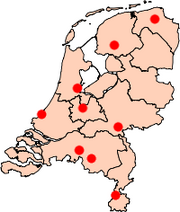 The Eredivisie was formed after World War II, with teams in Amsterdam, The Hague and Tilburg. It suspended operations from 1950 to 1964, but has organized a season of competition annually ever since. Over the years the number of teams competing has fluctuated between 3 and 10 (currently 8), and the number of games played in the regular season between 4 and 36 (currently 28).
Below the Eredivisie is the Eerste Divisie (First Division), an amateur league. There is no automatic relegation or promotion between Eredivisie and Eerste Divisie, but teams have sometimes moved from one division to the other for financial reasons. Some cities (such as Amsterdam, Tilburg, The Hague and Nijmegen) have a professional team in the Eredivisie and a separate but similarly-named amateur team in the Eerste Divisie.
Eredivisie (Honorary Division) is also used for the top leagues of many other sports in the Netherlands, most notably the football Eredivisie.
Teams
List of teams for 2009-10 season.
For the 2008-2009 season, the Utrecht Dragons and Eindhoven Kemphanen joined the league. In 2009-2010, Utrecht returned to the Eerste Divisie.
Champions
See Also
External links