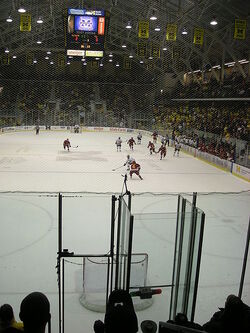 An empty net goal, or colloquially an empty netter (abbreviated as EN or ENG), occurs in ice hockey when a team scores a goal into a net with no goaltender (goalie) present. This usually occurs in one of two different occasions:
Usually in about the last two minutes of a game, if a team is within two goals, they will often pull the goalie, leaving the net defenseless, for an extra attacker, in order to have a better chance of scoring to either tie or get within one goal. If the team with the lead gets control of the puck they will often shoot at the net after clearing center ice. It is less common for a team to shoot from their own zone at an empty net because icing could occur if the shooter misses the net. Sometimes a team will pull their goalie when they are on a two-man advantage, even if not nearing the end of the game. With the team then gaining an advantage of six skaters to three, this will increase even further the chances of the team scoring.
In the case of a delayed penalty, the non-offending team will often pull their goaltender for an extra attacker in this situation as well. Empty net goals that are scored in this case are accidental own goals because the whistle would be blown if the offending team touches the puck. An own goal is usually scored when a forward from the non-offending team passes backwards to a defenseman that is not in position, and the puck slides all the way down the ice into the team's own net, or when players of the non-offending team are being pressured in their own zone and they accidentally knock it into the net. This goal is credited to the last player on the scoring team who touched the puck.
Goaltender's Statistics
Empty net goals are charged to the goaltender that was previously in net as empty net goals against (abbreviated as EN, ENG or ENA). Empty net goals do not count against a goaltender's goals against average or their save percentage, but rather are tracked separately.