Elmira Jr. Soaring Eagles

City:
Elmira, New York
League:
Eastern Hockey League
Founded:
2005
Operated:
2005-present
Home Arena:
Murray Athletic Center Arena
Franchise history
2005–2010:
Binghamton Jr. Senators
2010–2015:
Wilkes-Barre/Scranton Knights
2015-2019:
Binghamton Jr. Senators
2019-Present:
Elmira Jr. Soaring Eagles
The Elmira Jr. Soaring Eagles are an USA Hockey-sanctioned Tier II Jr. A ice hockey team from Elmira, New York.
The players, ages 16–20, carry amateur status under Junior A guidelines and hope to earn a spot on higher levels of junior hockey in the United States and Canada, Canadian Major Junior, Collegiate, and eventually professional teams.
AtJHL/EHL
Edit
Until 2010 the team played in Binghamton, New York as the Binghamton Jr. Senators at the Chenango Ice Rink in the Atlantic Junior Hockey League (AtJHL). After relocating, the organization would also field a team at the Jr. B level in the Metropolitan Junior Hockey League as well as youth hockey select teams at the Midget U18, Midget 16U, Bantam, Peewee, and Squirt and Mite levels. The Knights have taken their name from the youth organization which was formed in 2005. Along with Revolution Ice Centre, the Knights also practice at Revolution Training Centre in Dunmore, PA. The training center has two skating surfaces: one synthetic ice and the other is an 85 x 45 ice surface.[1]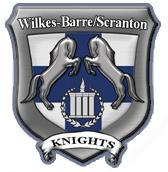 The Knights won the AtJHL Championship during the 2012–13 season. The Knights came out victorious in the best of three series against the Northern Cyclones and earned the AtJHL President's Cup. The Knights lost the first game of the series 0-2 against the Cyclones, however, the Knights bounced back from their first loss of the playoffs with a lopsided 9-2 win. During the last game the Cyclones had a 2-1 lead and it looked like they would hoist the President's Cup, but Knights forward Matt Cessna tied the game at 2-2 with just 22 seconds remaining in the third period. Then, with just over four minutes remaining in the first overtime, Matt Cessna scored the game-winner. For his in-game heroics, Cessna was named the Most Valuable Player of the Playoff Championship Series. The Knights 2012–13 AtJHL Championship Team contained some well-known last names in the hockey world, including team captain Jack Ceglarski (Grandson of Len Ceglarski) and the defenceman Oscar Nyquist (Brother of Gustav Nyquist).[2][3]
Season-by-season records
Edit
Eastern Hockey League
Edit
Season
GP
W
L
OL
SL
Pts
GF
GA
Finish
Playoffs
Eastern Hockey League (Tier III)
2013–14
44
19
16
8
1
47
121
111
4th, Central Div.
8th of 17, EHL
Won Round 1, 2-0 vs. Philadelphia Junior Flyers
Lost Quarterfinals, 0-2 vs. Northern Cyclones
2014–15
44
28
14
2
0
58
155
126
2nd, Central Div.
6th of 19, EHL
Won Round 1, 2-1 vs. Boston Bandits
Lost Quarterfinals, 0-2 vs. Northern Cyclones
2016–17
36
32
4
0
-
64
289
100
2nd of 7
Lost, Final
2017-18
50
24
25
1
-
49
170
180
3rd Mid-Atlantic
L, Conf Quarterfinals 1-2 (New York Applecore)
2018-19
44
27
13
4
-
58
167
116
3rd Central
W, Conf Quarterfinals 2-0 (New York Applecore)
W, Conf Semifinals 2g-1 (New Jersey 87's)
Eliminated in Semifinal Round Robin
Cite error: <ref> tags exist, but no <references/> tag was found
Community content is available under
CC-BY-SA
unless otherwise noted.