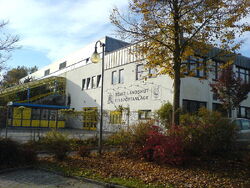 The Eisstadion am Gutenbergweg (German for Gutenbergweg ice hockey venue) is an indoor arena located in Landshut, Germany. It is primarily used for ice hockey. The complex of buildings consists of two ice rinks, one generally used for training purposes. The second arena is the home venue of the Landshut Cannibals, a professional ice hockey team participating in Germany's 2nd Bundesliga. The major arena currently holds about 7,000 people.
The (then) outdoor arena was inaugurated on 10 November 1957 on the current location of the stadium, ten years later the stadium was roofed. Until 1981 the venue was owned by the Eislaufverein Landshut (German for ice hockey association Landshut), but the increasing maintenance costs forced the association to sell the stadium to the City of Landshut. The city fortunately agreed on a contract that gained the professional ice hockey team of the previous holder the right to use the stadium for their purposes, i.e. their compulsory games. Since then the ownership of the stadium has not changed any more.
The facilities of the building include the "Landesleistungszentrum für Eishockey" (German for intensive training centre for ice hockey in Bavaria).
External links
[
]