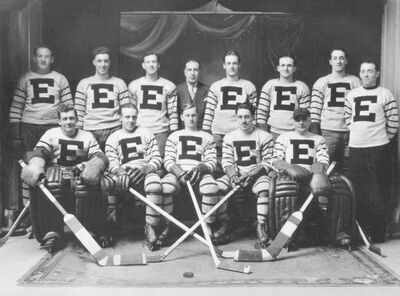 The Edmunston Eskimos were a senior, intermediate, and junior team.
The town's relative isolation meant that the teams usually did not play in a league but entered the provincial playoffs as an independent team.
The intermediate team won the New Brunswick championship in 1934-35 and went on to beat the regional Senior B champion. They lost to the Senior A Halifax Wolverines.
The team then moved up to the senior level. The Eskimos entered the Maritimes Senior Playoffs from 1936-40 and in 1944-45 as an independent (non-league) team but were always eliminated early.
A junior team lost the New Brunswick final in 1938-39 Maritimes Junior Playoffs.
Another junior team played in the 1981-82 NBJHL Season.
Season-by-Season Record
Senior
| | | | | | | | | | |
| --- | --- | --- | --- | --- | --- | --- | --- | --- | --- |
| Season | GP | W | L | T | GF | GA | P | Results | Playoffs |
| 1942-43 NBMHL season | 4 | 1 | 2 | 1 | 25 | 22 | 3 | 2nd East | Did not qualify |
Junior
See Also