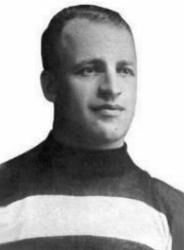 Eddie Gerrard (October 22, 1890 in Ottawa, Ontario - Died December 7, 1937) was a Canadian professional ice hockey player who played 5 seasons in the National Hockey League for the Ottawa Senators and Toronto St. Pats.
Playing career
He played for 2 different hockey teams in Ottawa (in three different leagues). He also played one Stanley Cup play-off game for the Toronto St. Pats.
Gerard won four Stanley Cups during his career. Three came as a member of the Ottawa Senators and one with the Toronto St. Pats. Gerard was allowed to play in the 1921-22 Stanley Cup playoffs after Vancouver Millionaires Manager Lester Patrick gave permission to Toronto to select any defenceman in the NHL to replace their injured player. Gerard would get his name engraved on the Stanley Cup for a 3rd time as a result of playing in that game when Toronto went on to defeat the Millionaires in the Stanley Cup challenge series. Eddie Gerard served as the captain of the Ottawa Senators from 1919 to 1923 and was inducted into the Hockey Hall of Fame in 1945.
Gerard coached the Montreal Canadiens for one season and also briefly coached the St. Louis Eagles. He also coached the Montreal Maroons from 1924–29 and 1932–34, winning his fifth Stanley Cup in 1925-26.
Awards & achievements
Career statistics
 
 
Regular Season
 
Playoffs
Season
Team
League
GP
G
A
Pts
PIM
GP
G
A
Pts
PIM
1913-14
Ottawa Senators
NHA
11
6
7
13
34
--
--
--
--
--
1914-15
Ottawa Senators
NHA
20
9
10
19
39
5
1
0
1
6
1915-16
Ottawa Senators
NHA
24
13
5
18
57
--
--
--
--
--
1916-17
Ottawa Senators
NHA
19
17
9
26
37
2
1
0
1
3
1917-18
Ottawa Senators
NHL
20
13
7
20
26
--
--
--
--
--
1918-19
Ottawa Senators
NHL
18
4
10
14
17
5
3
0
3
3
1919-20
Ottawa Senators
NHL
22
9
7
16
19
5
2
1
3
3
1920-21
Ottawa Senators
NHL
24
11
4
15
18
7
1
0
1
53
1921-22
Ottawa Senators
NHL
21
7
11
18
16
2
0
0
0
8
1921-22
Toronto St. Patricks
NHL
--
--
--
--
--
1
0
0
0
0
1922-23
Ottawa Senators
NHL
23
6
8
14
24
7
1
0
1
4
NHL Totals
128
50
47
97
120
27
7
1
8
71
NHA Totals
74
45
31
76
167
7
2
0
2
9
External links