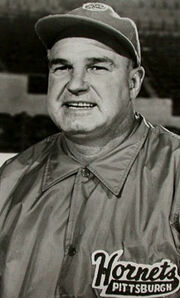 Edward Webster "Eddie" Bush (July 11, 1918 in Collingwood, Ontario – May 31, 1984) was a Canadian professional ice hockey defenceman who played two seasons in the National Hockey League for the Detroit Red Wings, and who coached for one season in the National Hockey League for the Kansas City Scouts.
He played junior for the Guelph Indians from 1936–38 and turned pro with the Detroit Red Wings in 1938-39.
Until 1942, he split time between the Wings and the minor pros. Bush got into 26 NHL games, scoring 4 goals and 6 assists. This was to be the extent of his NHL time.
From 1942-45 he played with the senior Toronto RCAF Flyers and the Dartmouth RCAF teams.
In 1946 he returned to the pros. He played four seasons in the American Hockey League and then two seasons in the senior ranks. Bush retired in 1951 after playing for his hometown Collingwood Shipbuilders.
He took over as coach of the junior Guelph Biltmores from 1955-59. Bush then coached the Hamilton Red Wings in 1961-62, 1963–64, and 1967–68, the Memphis Wings in 1964-65, the Pittsburgh Hornets in 1965-66, the Quebec Aces in 1970-71 (as the team's last coach), the Richmond Robins in 1971-72, and the Kitchener Rangers in 1972-73 and 1973-74.
His last job was as coach of the hapless Kansas City Scouts in 1975-76.