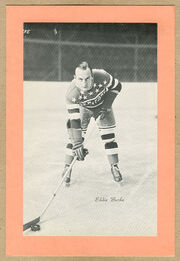 Eddie Burke (born June 3, 1907, died October 7, 1993) was a Canadian professional ice hockey right winger who played 106 games in the National Hockey League. He was born in Toronto, Ontario and played for the Boston Bruins and New York Americans. After his career in hockey, he disappeared and his whereabouts remain unknown, although some sources indicate that he died in 1969.
He played for the junior Toronto St Marys from 1921 to 1924, the senior Sault Ste. Marie Greyhounds from 1924 to 1926, and the senior Toronto Marlboros. Burke turned pro with the Boston Tigers of the Canadian American Hockey League in 1927-28. That led him to a 16 game callup with the Boston Bruins in 1931-32 where he scored three goals.
Burke then went back to the minors until later in the 1932-33 season when the New York Americans acquired him. He played two and a half seasons with the team, including scoring 20 goals in 1933-34.
After 1935, he played two more seasons in the minors and retired in 1937.
External Links
[
]