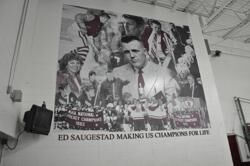 Ed Saugestad was the coach of the Augsburg Auggies hockey team from 1958 to 1996. He began as the team's coach during his senior year as a student at the college.
A 1959 Augsburg alumnus, Saugestad began his coaching career during his senior year, 1958, and coached the Auggies until 1996, compiling a 503-354-21 record. His Auggies won Minnesota Intercollegiate Athletic Conference titles six straight years (1977-82), qualified for national tournament play 10 times and won the NAIA national championship in 1978, 1981 and 1982. He coached 22 All-Americans during his Augsburg career. Saugestad was named NAIA National Coach of the Year three times and MIAC Coach of the Year six times. Saugestad was awarded the American Hockey Coaches Association's John MacInnes Award in 2002 to honor his contributions in the growth of amateur hockey in the United States, and was named as the Hobey Baker Legends of Hockey honoree in 2007. The MIAC christened its playoff championship trophy as the Ed Saugestad Trophy in 1998. He was inducted into Augsburg's Athletic Hall of Fame in 1978.
In addition to being the hockey coach he also served as a coach of the football team from 1959 to 1984 including being the head coach for the 1970 and 1971 seasons. He was also the school's athletic director from 1981 to 1987.
Ed had a kidney problem in 1995 that led to seven surgeries over a six week period that lead to he retirement in 1996. He passed away from pancreatic cancer at the age of 77 on March 20, 2014.
See also
[
]
links
[
]