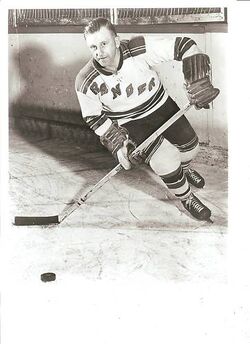 Ed Kullman (December 12, 1923 in Winnipeg, Manitoba – March 19, 1997) is a retired professional ice hockey player who played 343 games in the National Hockey League. He played for the New York Rangers.
He played junior hockey for the Winnipeg Rangers from 1941 to 1946. During that time, due to military committments, he also played for Vancouver RCAF and the Stratford Kroehlers, among other teams. He won the Memorial Cup with Winnipeg in 1943.
In 1946-47 he scored a league-leading 56 goals for the Portland Eagles of the Pacific Coast Hockey League. The New York Rangers brought him up the next season and he scored 32 points in 52 games. Kullman then spent most of the next two seasons in the minors but returned as a regular with New York from 1950 to 1954.
He played in the minors and senior ranks in 1954-55 and then retired.
In the NHL Kullman played in 343 games and scored 56 goals and 70 assists.
Awards & Achievements
External links