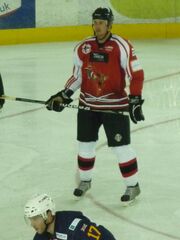 Ed Courtenay (b. February 2 1968 in Montreal, Quebec, Canada) is a former professional forward who briefly played in the National Hockey League with the San Jose Sharks.
Initially signed as a free agent by the Minnesota North Stars on October 1 1989, Courtenay was assigned to the Kalamazoo Wings. He was transfered to the San Jose Sharks in the 1991 NHL Dispersal Draft. He played 44 NHL games in his career between 1991 and 1993, all of them with the Sharks.
Courtenay was named ECHL MVP in 1996-97 while playing for the South Carolina Stingrays after being the league's top scorer with 110 points in 68 games. The next season, he joined the Sheffield Steelers, where he was the best goal scorer of the British Super League with 23 goals; he also had the most power play goals of the league. In 2005, Courtenay became player-coach for the Belfast Giants; he would lead his team to much success in 2006, helping them win the league championship. He stepped out of this role following the 2007-08 season, to be replaced by Steve Thornton.
External links