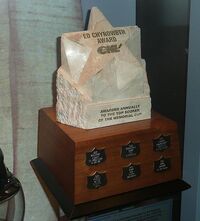 The Ed Chynoweth Trophy is awarded to the leading scorer at the Memorial Cup.
Ed Chynoweth was President of the WHL from 1972 to 1996. Chynoweth also served as CHL President from 1975 to 1996. He served as President and Governor of the Kootenay Ice from the team's inception until his death on April 22, 2008.
The trophy was first awarded at the 1996 Memorial Cup.
Winners
Source