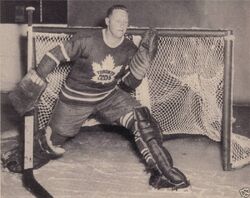 Edward Chadwick (born May 8, 1933) is a retired Canadian goaltender who played in the National Hockey League for the Toronto Maple Leafs and the Boston Bruins. He was born in Fergus, Ontario.
Playing Career
Chadwick started his NHL career in the 1955–56 season by playing five games for the Toronto Maple Leafs as a replacement for injured future-hall-of-famer Harry Lumley. Over the next two seasons Chadwick would play 140 consecutive regular season games, which is still a Leafs team record. However Chadwick's success in the NHL was shortlived, as his playing time dropped off and he was shipped down to the Rochester Americans of the American Hockey League. Chadwick only managed to play four more NHL games, as a member of the Boston Bruins in 1961–62. Chadwick would play the remainder of his days in the AHL, first for the Hershey Bears, and then the Buffalo Bisons before retiring in 1968.
Post-playing Career
He coached the Fort Worth Texans in 1973-74 and 1974-75.
Sometime later he became a scout for the Edmonton Oilers. He won 5 Stanley Cups rings with them 1984–85–87–88–90. His name was put on the Stanley Cup 1985, 1987, and 1990.
Awards
Gallery
Video
Over two hours of footage of Game 7 of the 1959 Bruins-Leafs Semi-finals starting in the second period. Several minutes into the second period, Harry Lumley is hit in the face by a Dick Duff shot. Play goes on until Lumley freezes the puck. The game is stopped for over 30 minutes while Lumley is repaired and to fill the time, interviews are held with Gordie Howe, Tom Foley (broadcaster), Ed Chadwick, Johnny Gagnon, Spencer Evans (Leafs publicity director) and Roger Barry (Boston hockey writer). Lumley returned to play with 7 stitches to his upper lip and 2 teeth knocked out.
References