(3 intermediate revisions by 3 users not shown)
Line 1:
Line 1:
 

[[Image:NHLEastConference.png|thumb|right|200x200px|Eastern Conference logo, circa [[2005-06 NHL season|2006]]]]

 

[[Image:NHLEastConference.png|thumb|right|200x200px|Eastern Conference logo, circa [[2005-06 NHL season|2006]]]]

 

[[Image:NHLEastConferenceFrench.png|thumb|right|200x200px|French version of the Eastern Conference logo]]

 

[[Image:NHLEastConferenceFrench.png|thumb|right|200x200px|French version of the Eastern Conference logo]]

−

The '''Eastern Conference''' ({{lang-fr|Conférence de l'Est}}) is one of two conferences in the [[National Hockey League]] (NHL) used to divide teams. Its counterpart is the [[Western Conference (NHL)|Western Conference]].

+

The '''Eastern Conference''' (Conférence de l'Est) is one of two conferences in the [[National Hockey League]] (NHL) used to divide teams. Its counterpart is the [[Western Conference (NHL)|Western Conference]].

 
 
−

Previously known as the '''[[Prince of Wales]] Conference''' (or '''Wales Conference''' for short), it was created in [[1974-75 NHL season|1974]] when the NHL realigned its teams into two conferences and four divisions. Because the new conferences and divisions had little to do with North American geography, geographical references were removed. The conference was instead named for the [[Prince of Wales Trophy]], which was given to the conference's annual champion.

+

Previously known as the '''Prince of Wales Conference''' (or '''Wales Conference''' for short), it was created in [[1974-75 NHL season|1974]] when the NHL realigned its teams into two conferences and four divisions. Because the new conferences and divisions had little to do with North American geography, geographical references were removed. The conference was instead named for the [[Prince of Wales Trophy]], which was given to the conference's annual champion.

 
 
−

The conferences and divisions were re-aligned in [[1981-82 NHL season|1981]] to better reflect the geographical locations of the teams, but the existing names were retained with the Wales Conference becoming the conference for the NHL's Eastern North America teams. The names of conferences and divisions were changed in [[1993-94 NHL season|1993]] to reflect their geographic locations. Then-new NHL commissioner [[Gary Bettman]] made the change to help non-hockey fans better understand the game, as the [[National Basketball Association]], [[National Football League]], and [[Major League Baseball]] all use geographic-based names for their conferences and divisions. However, the move angered purists and older hockey fans, who felt the change removed any touch of the history of the league. Critics also noted that baseball and football fans wouldn't be confused by divisions being named after major figures like [[Roberto Clemente]] or [[Walter Payton]]. The trophy awarded to the conference champion, the Prince of Wales Trophy, retains some connection to the heritage of the league.

+

The conferences and divisions were re-aligned in [[1981-82 NHL season|1981]] to better reflect the geographical locations of the teams, but the existing names were retained with the Wales Conference becoming the conference for the NHL's Eastern North America teams. The names of conferences and divisions were changed in [[1993-94 NHL season|1993]] to reflect their geographic locations. Then-new NHL commissioner [[Gary Bettman]] made the change to help non-hockey fans better understand the game, as the National Basketball Association, National Football League, and Major League Baseball all use geographic-based names for their conferences and divisions. However, the move angered purists and older hockey fans, who felt the change removed any touch of the history of the league. Critics also noted that baseball and football fans wouldn't be confused by divisions being named after major figures like Roberto Clemente or Walter Payton. The trophy awarded to the conference champion, the Prince of Wales Trophy, retains some connection to the heritage of the league.

 
 
 

==Divisions==

 

==Divisions==

Line 54:
Line 54:
 

* [[2003-04 NHL season|2003-04]] - [[Tampa Bay Lightning]]

 

* [[2003-04 NHL season|2003-04]] - [[Tampa Bay Lightning]]

 

* [[2005-06 NHL season|2005-06]] - [[Carolina Hurricanes]]

 

* [[2005-06 NHL season|2005-06]] - [[Carolina Hurricanes]]

 
⚫
−
 
⚫
 
---
Latest revision as of 11:54, 21 June 2009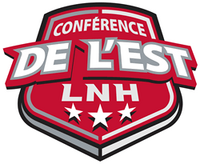 The Eastern Conference (French:Conférence de l'Est) is one of two conferences in the National Hockey League (NHL) used to divide teams. Its counterpart is the Western Conference.
Previously known as the Prince of Wales Conference (or Wales Conference for short), it was created in 1974 when the NHL realigned its teams into two conferences and four divisions. Because the new conferences and divisions had little to do with North American geography, geographical references were removed. The conference was instead named for the Prince of Wales Trophy, which was given to the conference's annual champion.
The conferences and divisions were re-aligned in 1981 to better reflect the geographical locations of the teams, but the existing names were retained with the Wales Conference becoming the conference for the NHL's Eastern North America teams. The names of conferences and divisions were changed in 1993 to reflect their geographic locations. Then-new NHL commissioner Gary Bettman made the change to help non-hockey fans better understand the game, as the National Basketball Association, National Football League, and Major League Baseball all use geographic-based names for their conferences and divisions. However, the move angered purists and older hockey fans, who felt the change removed any touch of the history of the league. Critics also noted that baseball and football fans wouldn't be confused by divisions being named after major figures like Roberto Clemente or Walter Payton. The trophy awarded to the conference champion, the Prince of Wales Trophy, retains some connection to the heritage of the league.
Divisions
Prior to the 1993 realignment, the Wales Conference consisted of the Adams Division and the Patrick Division. Currently, the Eastern Conference comprises 15 teams in three divisions: Atlantic, Northeast, and Southeast.
Champions