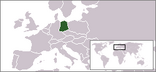 East Germany, or the German Democratic Republic (GDR or, in German, DDR) was formed in the eastern part of present-day Germany in 1949. It was made up of the area that had been occupied by the army of the Soviet Union after World War II.
In 1990 the country joined with West Germany to form the reunited country of Germany
East Germany

Info

Rinks

Players

Referees

Population in 1990

16,111,000

Indoor

--

Total

--

Male

--

Capital

East Berlin

Outdoor

--

Male

--

Female

--

IIHF From

1954-1990

Junior

--

Country From

1949-1990

Female

--
The East German national men's ice hockey team was a national ice hockey team created in 1951 to represent the German Democratic Republic (GDR). The team competed in many international competitions, including several in which they competed with the top teams for medals, but managed to win only the European Championship bronze medal in 1966. The only time they competed in the Olympics was in Grenoble in 1968. They scored 13 goals in 7 games, but didn't manage to win any games leaving them with no points in the standings. From that on the team refused to participate in Olympic hockey, but participated in other tournaments. The team folded in 1990 just before the German reunification.
First Game: East Germany 3-8 Poland January 28, 1951
Biggest Win: East Germany 20-0 France March 12, 1980
Biggest Loss: Czechoslovakia 25-2 East Germany October 17, 1951

In 1951 the Oberliga started with 7 teams : Einheit Berliner Bär, VOPO Berlin, Wismut Frankenhausen, Vorwärts Crimmitschau, BSG Chemie Weißwasser, Einheit Dresden and Fortschritt Apolda.
In 1969-70 The GDR finished 5th in the World Championship Pool A. East German politicians decided that ice hockey was no longer 'worthy of being supported' as the teams did not get enough medals in their international competitions. The Oberliga was reduced to the two teams : Dynamo Berlin and Dynamo Weißwasser. All other clubs continued as amateurs. All artificial ice rinks were reserved for figure skating and speed skating.
National Team
Edit
East Germany national ice hockey team
Community content is available under
CC-BY-SA
unless otherwise noted.