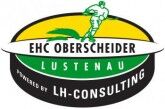 EHC Lustenau is a team playing in Lustenau, Austria. It plays in the Austrian Nationalliga, the second-highest league in the country. It plays in the Rheinhalle.
The team was founded in 1970 and joined the Nationalliga.
Lustenau won the league championship in 1973-74 and 1976-77. After winning again in 1981-82 it was promoted to the top league but was relegated again after finishing last. They won the Nationalliga title again in 1983-84 and were again promoted. This time the promotion lasted six years to 1989-90.
After winning the league championship in 1991-92 Lustenau refused promotion. They did rise in 1994-95 for two seasons but voluntarily returned to the Nationalliga in 1996-97 when they again won the championship.
Lustenau won a championship in 2005-06 and their eighth championship in 2008-09.
Lustenau players who played in the NHL