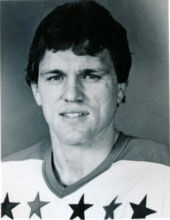 Dwight Hamilton Schofield (born March 25, 1956 in Waltham, Massachusetts) is a retired American ice hockey player.
He was selected 76th overall in the 1976 NHL Amateur Draft by the Detroit Red Wings of the National Hockey League, Schofield also played for the Montreal Canadiens, St. Louis Blues, Washington Capitals, Pittsburgh Penguins, and Winnipeg Jets before he retired following the 1987–88 NHL season.
Schofield only played parts of seasons in the NHL until he joined the St. Louis Blues in 1983. He played the full 1983-84 season with the Blues.
Schofield primarily played the role of enforcer throughout his professional career, typically assigned to protect his team's scorers. His reputation as a fighter with the Washington Capitals earned him the nickname "Schonan the Barbarian."
He played in 211 NHL games, scoring 8 goals and 22 assists with 631 penalty minutes.
External links