Dunnville Jr. Mudcats

Provincial Junior Hockey League
City
Dunnville, Ontario
Founded
1974
Division
Bloomfield
Franchise history
1974-2010: Dunnville Terriers
2010-Present: Dunnville Jr. Mudcats
Head Coach
Steve Fenyves (2016-17)
General Manager
Ron Batenburg (2014-15)
Arena
Dunnville Memorial Arena
Team Colors
Blue, Yellow, and White
League Champions
1975, 1976, and 1983
Clarence Schmalz Cups
1976 and 1983

The Dunnville Jr. Mudcats are a Canadian Junior ice hockey team based in Dunnville, Ontario, Canada. They are playing in the Provincial Junior Hockey League.
Prior to the 2016-17 season the Mudcats competed in the Niagara & District Junior C Hockey League.
History
Before joining the Niagara "C", the Terriers played in the Golden Horseshoe Junior B Hockey League.
The Terriers' logo originally had a silhouette of a Scottish Terrier on it up until the early 1980s. Since then, despite the name of the team, the logo has shown an image of an English Bulldog.
In the Summer of 2010, the "Terriers" changed their name to the Dunnville Jr. Mudcats. The Mudcats are the name sake of the former Senior B team from town called the Dunnville Mudcats.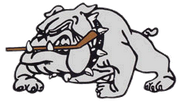 Season-by-season results
Season
GP
W
L
T
OL
GF
GA
P
Results
Playoffs
1974-75
30
24
3
3
-
--
--
51
1st NJCHL
Won League, Lost CSC SF
1975-76
36
29
3
4
-
--
--
62
1st NJCHL
Won League, Won CSC
1976-77
32
17
12
3
-
172
164
37
3rd GHJHL
1977-78
40
14
22
4
-
194
252
32
5th GHJHL
1978-79
40
6th NDJBHL
1979-80
39
20
14
5
-
171
141
45
2nd NJC-E
Lost Quarter-final
1980-81
40
19
17
4
-
223
191
42
4th NJC-E
Lost Final
1981-82
35
23
7
5
-
--
--
51
2nd NJC-CA
Lost Div Final
1982-83
32
24
6
2
-
--
--
50
1st NJC-E
Won League, Won CSC
1983-84
40
14
20
6
-
--
--
34
4th NJC-E
1984-85
34
20
11
3
-
188
122
43
4th NJCHL
Lost Semi-final
1985-86
39
18
19
2
-
205
190
38
7th GHJHL
1986-87
34
16
13
5
-
--
--
37
1st NJC-C
1987-88
40
19
16
5
-
186
196
43
2nd NJC-E
Lost Quarter-final
1988-89
40
4
31
5
-
--
--
13
6th NJC-E
1989-90
40
17
20
3
-
--
--
37
4th NJC-E
1990-91
36
8
24
4
-
134
198
20
7th NJC-E
1991-92
36
3
31
2
-
112
245
8
7th NJC-E
1992-93
42
9
27
6
-
144
265
24
7th NJC-E
1993-94
41
4
35
2
-
134
291
10
8th NJC-E
1994-95
36
7
26
3
-
118
236
17
6th NJC-E
1995-96
36
9
23
4
-
104
189
22
6th NJC-E
1996-97
36
9
24
2
1
118
222
21
6th NJC-E
1997-98
42
6
35
1
0
104
314
13
7th NJC-E
1998-99
35
5
29
0
1
98
223
11
7th NJC-E
1999-00
36
6
29
-
1
124
216
13
6th NJC-E
2000-01
36
4
30
1
1
101
226
10
6th NJC-E
2001-02
36
7
25
1
3
104
188
18
6th NJC-E
2002-03
36
14
19
1
2
161
164
31
8th NJCHL
2003-04
36
10
23
2
0
120
176
22
11th NJCHL
2004-05
36
9
26
1
0
117
203
19
11th NJCHL
2005-06
36
12
18
3
3
126
152
30
7th NJCHL
2006-07
36
4
27
1
4
136
266
13
11th NJCHL
2007-08
36
0
35
0
1
74
316
1
12th NJCHL
Lost Quarter Final
2008-09
36
2
33
-
1
69
256
5
12th NJCHL
Lost Quarter Final
2009-10
36
6
29
-
1
118
200
13
12th NJCHL
Lost Quarter Final
2010-11
36
19
15
-
2
156
169
40
8th NJCHL
Lost Quarter Final
2011-12
36
7
27
-
2
117
185
16
12th NJCHL
Lost Quarter Final
2012-13
38
21
15
-
2
131
133
44
3rd NJC-E
2013-14
35
22
12
-
1
148
104
45
3rd NJCHL
Lost Final
2014-15
42
27
12
-
3
184
129
57
3rd NJCHL
Lost Semi's
2015-16
42
16
24
1
1
161
172
34
6th of 8 NJCHL
Lost Quarters
2016-17
42
16
25
1
-
139
170
33
6th of 8-PJHL
Bloomfield Div
Lost Div Semifinals
2017-18
42
13
25
3
1
115
186
30
7th of 8-PJHL
Bloomfield Div
Lost Div Quarters
2018-19
42
9
29
1
3
99
231
22
7th of 8-PJHL
Bloomfield Div
Lost Div Quarters
2019-20
42
11
28
1
2
100
177
25
8th of 8-PJHL
Bloomfield Div
Lost Div Quarters
2020-21
Season cancelled due to COVID-19 pandemic
Clarence Schmalz Cup appearances
1976: Dunnville Terriers defeated Essex 73's 4-games-to-2
1983: Dunnville Terriers defeated Lindsay Muskies 4-games-to-2
Notable alumni
External links