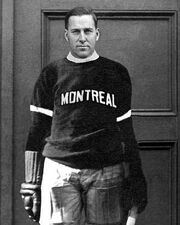 Duncan Brown "Dunc" Munro (January 19, 1901 – January 4, 1958) was a Canadian hockey player who played with and coached the Montreal Maroons. He was born in Moray, Scotland.
He played junior hockey for the University of Toronto Schools when they won the Memorial Cup in 1919.
He then played for the senior Toronto Granites, a team that featured such Hockey Hall of Famers as Hooley Smith and Hap Day and this team won the gold medal in the 1924 Winter Olympics. Munro scored 18 goals in the four games he played. As a result of the team's winning the gold medal, there was a scramble to sign players from this team and Munro signed with the not yet named Montreal Maroons.
His steady defensive play kept the Maroons contenders. In 1926, the Maroons won the Stanley Cup. The Maroons had a strong defence of Red Dutton and Reg Noble backed by Munro and the team gave up few chances to opposition marksmen. The Maroons made the finals in 1928 but lost to the New York Rangers.
The following year, after just one game, Munro suffered a heart attack that hospitalized him, and while in hospital he nearly contracted pneumonia. His absence was felt. The Maroons tumbled to the bottom of the Canadian Division of the NHL.
Munro recovered in time for the 1929–30 season and found himself player-coach upon his return. He took the Maroons from worst to first in the Canadian Division that year. The following year the Maroons signed practically the entire Montreal AAA Allan Cup-winning team and the team sagged, and before the season ended, he was fired as coach and replaced by George Boucher. He played his last season with the Montreal Canadiens in 1931–32.
Gallery
[
]
External Links
[
]