---
Canadian Junior A Outline
---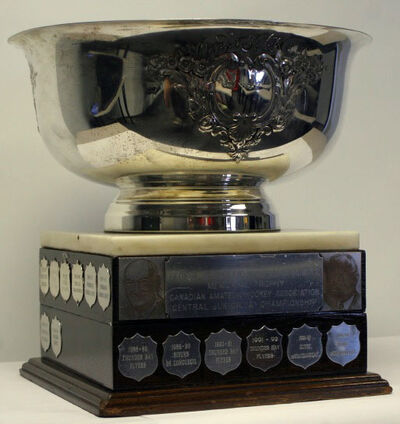 The Dudley Hewitt Cup is the Central Canadian Junior "A" championship. The trophy is governed by the Canadian Junior Hockey League. The winner moves on to the Royal Bank Cup.
Prior to the creation of the Dudley Hewitt Cup and Callaghan Cup, all Eastern teams played in the Eastern Centennial Cup Championship.
Naming of Trophy
The trophy is named in honour of George Dudley and W. A. Hewitt who were two pioneers of amateur hockey in the province of Ontario.  Both men are members of the Hockey Hall of Fame.
Leagues
Formats
Current
A pre-selected host team plus the champions of the Northern Ontario Junior Hockey League, Ontario Junior Hockey League, and Superior International Junior Hockey League play a single round robin preliminary round followed by a the second and third place teams from the round robin meeting in the semifinal and the winner of that game meeting the first place team from the round robin in the championship game. The winner of the championship advances to the National Junior A Championship. If the predetermined host of this tournament also wins their league playoffs the runner-up qualifies as the league representative. This format has been used since the 2001-02 season when the Superior International Junior Hockey League began play.
Previous Formats
Champions
Central Canada Champions
Year
Champions
Runners-Up
Host/Series
Eastern Canadian Champions
1971
Charlottetown Islanders (MJAHL)
Detroit Jr. Red Wings (SOJHL)
4-2
1972
Guelph CMC's (SOJHL)
Charlottetown Islanders (Independent)
4-0
1973
Pembroke Lumber Kings (CJHL)
St. Jerome Alouettes (QJAHL)
4-1
1974
Smiths Falls Bears (CJHL)
Thunder Bay Hurricanes (TBJHL)
4-3
1975
Guelph Biltmore Mad Hatters (SOJHL)
Smiths Falls Bears (CJHL)
4-2
1976
Rockland Nationals (CJHL)
Charlottetown Colonels (IJHL)
4-0
1977
Pembroke Lumber Kings (CJHL)
Charlottetown Generals (IJHL)
4-0
1978
Guelph Platers (OPJHL)
Charlottetown Eagles (IJHL)
4-2
Central Region Champions
1979
Guelph Platers (OPJHL)
Hawkesbury Hawks (CJHL)
4-2
1980
North York Rangers (OPJHL)
Joliette Cyclones (QJAHL)
4-2
1981
Belleville Bulls (OPJHL)
Gloucester Rangers (CJHL)
4-3
1982
Guelph Platers (OJHL)
Pembroke Lumber Kings (CJHL)
4-0
1983
North York Rangers (OJHL)
Thunder Bay Kings (TBHL)
4-0
1984
Orillia Travelways (OJHL)
Pembroke Lumber Kings (CJHL)
4-0
1985
Orillia Travelways (OJHL)
Aurora Tigers (OJHL)
11-3 (@ 1985 CC)
1986
Orillia Travelways (OJHL)
Brockville Braves (CJHL)
4-3
1987
Pembroke Lumber Kings (CJHL)
Nickel Centre Power Trains (NOJHL)
4-1
1988
Pembroke Lumber Kings (CJHL)
Thunder Bay Flyers (USHL)
4-0
1989
Thunder Bay Flyers (USHL)
Pembroke Lumber Kings (CJHL)
4-0
1990
Longueuil College Francais (QPJHL)
Sudbury Cubs (NOJHL)
4-3
1991
Thunder Bay Flyers (USHL)
Sudbury Cubs (NOJHL)
Hawkesbury, Ontario
1992
Thunder Bay Flyers (USHL)
Kanata Valley Lasers (CJHL)
Thunder Bay, Ontario
1993
Chateauguay Elites (QPJHL)
Ottawa Senators (CJHL)
St. Hubert, Quebec
1994
Chateauguay Elites (QPJHL)
Thunder Bay Flyers (USHL)
Timmins, Ontario
1995
Thunder Bay Flyers (USHL)
Brampton Capitals (OPJHL)
Thunder Bay, Ontario
1996
Newmarket 87's (OPJHL)
Brampton Capitals (OPJHL)
Cobourg, Ontario
1997
Rayside-Balfour Sabrecats (NOJHL)
Milton Merchants (OPJHL)
4-1
1998
Milton Merchants (OPJHL)
Rayside-Balfour Sabrecats (NOJHL)
4-2
1999
Bramalea Blues (OPJHL)
Rayside-Balfour Sabrecats (NOJHL)
4-0
2000
Rayside-Balfour Sabrecats (NOJHL)
Brampton Capitals (OPJHL)
4-1
2001
Thornhill Rattlers (OPJHL)
Rayside-Balfour Sabrecats (NOJHL)
4-3
2002
Rayside-Balfour Sabrecats (NOJHL)
Dryden Ice Dogs (SIJHL)
2-0
2003
Wellington Dukes (OPJHL)
North Bay Skyhawks (NOJHL)
Fort Frances, Ontario
2004
Aurora Tigers (OPJHL)
North Bay Skyhawks (NOJHL)
North Bay, Ontario
2005
Georgetown Raiders (OPJHL)
St. Michael's Buzzers (OPJHL)
Georgetown, Ontario
2006
Fort William North Stars (SIJHL)
Sudbury Jr. Wolves (NOJHL)
Thunder Bay, Ontario
2007
Aurora Tigers (OPJHL)
Schreiber Diesels (SIJHL)
Iroquois Falls, Ontario
2008
Oakville Blades (OPJHL)
Newmarket Hurricanes (OPJHL)
Newmarket, Ontario
2009
Kingston Voyageurs (OJHL)
Fort William North Stars (SIJHL)
Schreiber, Ontario
2010
Oakville Blades (OJAHL)
Fort William North Stars (SIJHL)
Sault Ste. Marie, Ontario
2011
Wellington Dukes (OJHL)
Huntsville Otters (OJHL)
Huntsville, Ontario
2012
Soo Thunderbirds (NOJHL)
Stouffville Spirit (OJHL)
Thunder Bay, Ontario
2013
Minnesota Wilderness (SIJHL)
St. Michael's Buzzers (OJHL)
North Bay, Ontario
2014
Toronto Lakeshore Patriots (OJHL)
Wellington Dukes (OJHL)
Wellington, Ontario
2015
Soo Thunderbirds (NOJHL)
Fort Frances Lakers (SIJHL)
Fort Frances, Ontario
2016
Trenton Golden Hawks (OJHL)
Soo Thunderbirds (NOJHL)
Kirkland Lake, Ontario
2017
Trenton Golden Hawks (OJHL)
Georgetown Raiders (OJHL)
Trenton, Ontario
2018
Wellington Dukes  (OJHL)

Dryden Ice Dogs (SIJHL)

Dryden, Ontario
2019
Oakville Blades (OJHL)
Hearst Lumberjacks (NOJHL)
Cochrane, Ontario
2020
2020 Tournament cancelled due to COVID-19 pandemic
2021
2021 Tournament cancelled due to COVID-19 pandemic
See also