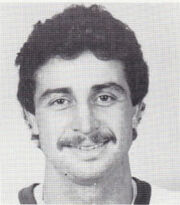 Duane Calvin Sutter (born March 16, 1960 in Viking, Alberta) is a Canadian former forward and former head coach in the National Hockey League. He is one of the famed six Sutter brothers to play in the NHL. He is a scout for the Edmonton Oilers.
Playing career
Duane was drafted by the New York Islanders in 1979 in the 1st round and as the 17th pick overall. During the following season he made his debut for the Islanders, and as a rookie was a key contributor to the Islanders first Stanley Cup championship. Duane Sutter, who was dubbed "Dog" by his teammates because he yapped and barked before and during games, also contributed to the ensuing 1981, 1982 and 1983 Stanley Cup championships. Playing in the corners of the rink, Duane Sutter was tough but skillful. Sutter had an underrated passing ability and scoring touch.
After the 1983 Cup win, Duane had the distinction winning four Stanley Cup championships in his first four seasons of the NHL. The Duane and Brent unexpectedly led all players with 7 and 5 points during that finals series.
In the 1980–81 season he was joined by his younger brother, Brent, on the team and they played together until Duane was traded to the Chicago Blackhawks in 1987.
He played for the Blackhawks for three seasons, but after the 1989–1990 season he retired.
During 1996–1998 and 2000–2003 he was a part of the coaching staff in the Florida Panthers (1996–1998 and 2002–2003 he was assistant coach and during 2000–2002 he was head coach)
Duane's son Brody, is a forward for the Western Hockey League's Lethbridge Hurricanes.
Career statistics
                                  Regular Season              
Season  Team                    Lge   GP   G   A    Pts  PIM   
    
1976-77 Lethbridge Broncos      WCJHL 1    0   1    1    2
1977-78 Lethbridge Broncos      WCJHL 5    1   5    6    19
1978-79 Lethbridge Broncos      WHL   71   50  75   125  212
1979-80 Lethbridge Broncos      WHL   21   18  16   34   74
1979-80 New York Islanders*     NHL   56   15  9    24   55
1980-81 New York Islanders*     NHL   23   7   11   18   26
1981-82 New York Islanders*     NHL   77   18  35   53   100
1982-83 New York Islanders*     NHL   75   13  19   32   118  
1983-84 New York Islanders      NHL   78   17  23   40   94   
1984-85 New York Islanders      NHL   78   17  24   41   174
1985-86 New York Islanders      NHL   80   20  33   53   157  
1986-87 New York Islanders      NHL   80   14  17   31   169   
1987-88 Chicago Blackhawks      NHL   37   7   9    16   70 
1988-89 Chicago Blackhawks      NHL   75   7   9    16   214
1989-90 Chicago Blackhawks      NHL   72   4   14   18   156

                   NHL Totals         731  139 203  342  1333

NHL Coaching Statistics
Coaching record
Team
Year
Regular season
Post season
G
W
L
T
OTL
Pts
Finish
W
L
Win %
Result
FLA
2000–01
46
16
20
6
4
(66)
3rd in Southeast
---
---
---
Missed Playoffs
FLA
2001–02
26
6
15
2
3
(60)
4th in Southeast
---
---
---
(fired)
External links