The Drayton Valley Thunder is an ice hockey team in the Alberta Junior Hockey League. They play in Drayton Valley, Alberta, Canada at the Drayton Valley Omni-Plex, capacity 1450.
Founded: 1998-99
Division titles won: 1999-00, 2000-01
Regular season titles won: 2005-6
League Championships won: 2002
Doyle Cup Titles: None
Royal Bank Cup Titles: None
History
The Drayton Valley Thunder were awarded as an expansion franchise in 1998, and began play in the South Division for the 1998-99 season. One year after finishing sixth in the South, ahead of only their expansion cousins the Crowsnest Pass Timberwolves, the Thunder rocketed up the standings, winning the South division in only their second season. Further expansion shifted the Thunder into the North Division in 2000-01, where they won another division title.
In 2002, only four years after being awarded the team, the Thunder captured the Rogers Wireless Cup as AJHL Champions. The Thunder fell to the Chilliwack Chiefs of the BCHL in the Doyle Cup series.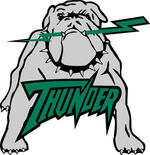 Season-by-season record
Note: GP = Games played, W = Wins, L = Losses, T/OTL = Ties/Overtime losses, SL = Shootout losses, Pts = Points, GF = Goals for, GA = Goals against
| | | | | | | | | | | |
| --- | --- | --- | --- | --- | --- | --- | --- | --- | --- | --- |
| Season | GP | W | L | T/OTL | SL | Pts | GF | GA | Finish | Playoffs |
| 1998-99 | 62 | 20 | 36 | - | 6 | 46 | 181 | 284 | 6th South | Did not qualify |
| 1999-00 | 64 | 40 | 18 | - | 6 | 86 | 268 | 204 | 1st South | --- |
| 2000-01 | 64 | 42 | 19 | 3 | - | 87 | 293 | 194 | 1st North | --- |
| 2001-02 | 64 | 44 | 17 | 3 | - | 91 | 300 | 198 | 2nd North | Won championship |
| 2002-03 | 64 | 37 | 20 | 7 | - | 81 | 240 | 199 | 3rd North | --- |
| 2003-04 | 60 | 27 | 23 | 10 | - | 64 | 165 | 177 | 5th North | --- |
| 2004-05 | 64 | 39 | 19 | 6 | - | 84 | 198 | 146 | 3rd North | Lost in third round |
| 2005-06 | 60 | 38 | 16 | 6 | - | 82 | 203 | 158 | 2nd North | Lost in second round |
| 2006-07 | 60 | 30 | 26 | 4 | - | 64 | 199 | 211 | 4th North | Lost in first round |
| 2007-08 | 62 | 12 | 44 | 6 | - | 30 | 151 | 280 | 8th North | Did not qualify |
| 2008-09 | 62 | 7 | 50 | 5 | - | 19 | 122 | 318 | 8th North | Did not qualify |
| 2009-10 | 60 | 12 | 42 | 6 | - | 30 | 139 | 269 | 8th North | Did not qualify |
| 2010-11 | 60 | 13 | 39 | 8 | - | 34 | 164 | 250 | 8th North | Did not qualify |
| 2011-12 | 60 | 27 | 27 | 6 | - | 60 | 187 | 224 | 6th North | lost div. semi finals |
| 2012-13 | 60 | 30 | 23 | - | 7 | 67 | 178 | 177 | 6th North | lost div. quarter finals |
| 2013-14 | 60 | 22 | 33 | - | 5 | 49 | 148 | 205 | 7th North | lost div. quarter finals |
| 2014-15 | 60 | 24 | 24 | - | 12 | 60 | 161 | 191 | 6th North | lost div. quarter finals |
| 2015-16 | 60 | 23 | 33 | - | 4 | 50 | 150 | 242 | 6th North | lost div. quarter finals |
| 2016-17 | 60 | 17 | 39 | - | 4 | 38 | 160 | 252 | 6 North | Lost div. quarter finals |
| 2017-18 | 60 | 17 | 40 | - | 3 | 37 | 178 | 298 | 8th North | Did not qualify |
| 2018-19 | 60 | 24 | 30 | - | 6 | 54 | 155 | 191 | 6th North | Lost div. quarter finals |
| 2019-20 | 58 | 26 | 25 | - | 7 | 59 | 172 | 189 | 5th North | Win Division quarterfinals then playoffs suspended |
| 2020-21 | 16 | 8 | 8 | - | 0 | .500 | 51 | 50 | 4th North | Playoffs cancelled |
Notable alumni
References