The Doyle Cup is a ice hockey trophy won through a best-of-7 series conducted annually by the Canadian Junior Hockey League. The series is played between the Fred Page Cup champions of the British Columbia Hockey League (BCHL) and the Enerflex Cup champions of the Alberta Junior Hockey League (AJHL). The winner of the Doyle Cup earns the Pacific region's berth in the Royal Bank Cup, the Junior "A" National Championship. The playoff series has been contested since 1971, except from 2013 to 2017 when it was replaced by the Western Canada Cup. The current trophy was donated in 1984 by Pete Doyle, a Penticton, British Columbia businessman, replacing the Pacific Centennial Cup that two leagues competed for from 1971 to 1984.
The Pacific region's Doyle Cup Champion traditionally played the Western region's Anavet Cup champion for the Abbott Cup, the Western Canadian Championship. However, the Abbott Cup diminished in importance following the reorganization of the Royal Bank Cup in 1990. The Abbott Cup was then presented to the winner of the round-robin game, between the Pacific champion and Western champion, during the larger Royal Cup competition; this practice ended, and the Abbott Cup was retired, after the 1999 Royal Cup.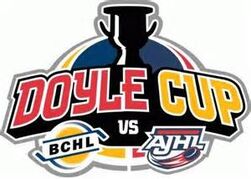 Champions
The BCHL was known as the BCJHL until 1990
Also in 1976 and 1977 a PCJHL champion defeated the BCJHL champion at the Mowat Cup to advance to this round.
Bolded are the champions.