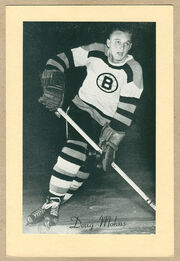 Douglas Allen "Diesel" Mohns (b. December 13th 1933 – d. February 7th, 2014) was a professional Winger and defenseman who played in the National Hockey League from 1953 to 1975 with the Boston Bruins, Chicago Blackhawks, Minnesota North Stars, Atlanta Flames and Washington Capitals.
During the October 18, 1958 game in Toronto, Doug Mohns took a Bob Pulford elbow to the face which broke his jaw. Later in the game, Carl Brewer hit Bronco Horvath in the face with his shoulder and also broke his jaw. Both would return to play in December 1958, wearing protection for their still healing jaws.
Twice Memorial Cup winner with the Barrie Flyers of the OHA, Mohns joined the Bruins in 1953 and was an NHL regular until his retirement in 1975. He was the Capitals' first ever captain during his last season, 1974-75.
Gallery
See Also
External Links