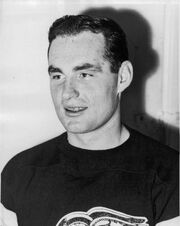 Douglas McCaig (born February 24, 1919 in Guelph, Ontario – June 6, 1982) was a professional ice hockey defenceman who played 263 games in the National Hockey League. He played for the Detroit Red Wings and Chicago Black Hawks.
He played for the Detroit Holzbaugh Ford in the Michigan-Ontario League in 1939-40 and 1940-41. In 1941-42 McCaig earned a two game callup to the Detroit Red Wings between stints for the Indianapolis Capitals.
McCaig spent 1942 to 1945 during World War II playing for various RCAF teams across Canada.
After the war McCaig played some for the Red Wings until 1949 when he was traded to the Chicago Black Hawks. He was a regular for the Hawks through most of the 1950-51 season. McCaig played in a total of 263 NHL games, scoring 8 goals and 21 assists.
In 1951-52 McCaig took his first coaching job, that of player-coach of the Edmonton Flyers. He moved the next season to the Toledo Mercurys of the International League and was their player-coach in 1953-54. In 1955-56 he was the player-coach of the Fort Wayne Komets. McCaig then retired but remained the team's coach.
External links
[
]