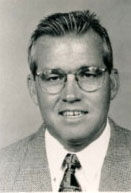 Douglas MacLean, (born April 12, 1954 in Summerside, Prince Edward Island) is a Canadian sportscaster and former ice hockey coach and general manager. He is the former president/general manager and head coach of the National Hockey League's Columbus Blue Jackets and was also the head coach of the Florida Panthers.
MacLean began coaching at the University of New Brunswick, followed by assistant coach positions with the St. Louis Blues and Washington Capitals. MacLean's first professional head coach position came in 1990, when he was sent to the Baltimore Skipjacks, the Capital's AHL affiliate, as part of a midseason shakeup that placed Skipjacks head coach Terry Murray at the Capitals' helm.
MacLean served in the Detroit Red Wings organization from 1990-1994. During this time, he served as an assistant coach under Bryan Murray in 1990-91 and 1991-92. For the 1992-93 and 1993-94 seasons, MacLean served as the General Manager for the Adirondack Red Wings of the American Hockey League, the Red Wings top affiliate. During his time as GM, he orchestrated the trade of Kris Draper from the Winnipeg Jets to the Red Wings for $1.
MacLean is probably best known for leading an up-start Panther team, to the Eastern Conference crown in 1996, only to be swept in the Stanley Cup Final (four games to none) by the Colorado Avalanche.
After leading the Panthers to the playoffs in both the 1995–96 and 1996–97 seasons, MacLean was fired early in the 1997–98 campaign when the Panthers started with a 7–12–4 record.
MacLean was hired to serve as the Blue Jackets' GM on February 11, 1998, and added the position of team president to his responsibilities a month later. The Blue Jackets began play for the 2000–01 NHL season. On January 7, 2003 MacLean fired Blue Jackets head coach Dave King and took over as interim head coach, a position he held until January 1, 2004, when he promoted assistant coach Gerard Gallant to the role. MacLean remained president and general manager until he was fired at the conclusion of the 2006–07 season. The Blue Jackets never posted a winning record, going 172–258–62 under MacLean's leadership.
On August 7, 2007, it was announced that a group of investors headed by MacLean had bought the Tampa Bay Lightning. However, the deal fell apart during the 2007–08 season.
Coaching record
Team
Year
Regular season
Post season
G
W
L
T
OTL
Pts
Division rank
Result
FLA
1995-96
82
41
31
10
-
92
3rd in Atlantic
Lost in Cup Finals
FLA
1996-97
82
35
28
19
-
89
3rd in Atlantic
Lost in First Round
FLA
1997-98
23
7
12
4
-
(63)
6th in Atlantic
(fired)
CBJ
2002-03
42
15
22
4
1
(69)
5th in Central
Missed Playoffs
CBJ
2003-04
37
9
21
4
3
(62)
4th in Central
(fired)
Total
266
107
114
41
4