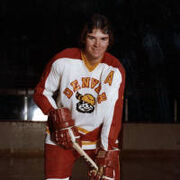 Doug Alan Berry (born June 3, 1957 in New Westminster, British Columbia) is a former National Hockey League centre.
He played for the Colorado Rockies for 2 seasons. He played in 121 games and scored 10 goals and 33 assists for 43 points.
He played Tier II Junior "A" hockey for the Kelowna Buckaroos in 1974-75 and then played for the University of Denver from 1975 to 1978. The Colorado Rockies chose him 38th overall in the 1977 NHL Amateur Draft while the Calgary Cowboys chose him 17th overall in the 1977 WHA Amateur Draft.
Berry decided to go with the WHA. Since the Cowboys had folded, Berry was able to sign with the Edmonton Oilers as a free agent. He split the 1978-79 season between the Oilers and the Dallas Black Hawks. After the WHA folded in 1979, the Rockies reclaimed Berry.
He played all of the 1979-80 season with the Rockies but was sent down to the Fort Worth Texans in the middle of the following season. After starting the 1981-82 season with the Wichita Wind Berry went to Germany to play for the Adler Mannheim team. He played three seasons with Mannheim and then played one season (1984-85) with Genève-Servette HC in Switzerland.
Berry played for Kolner Haie from 1985 to 1992 and then retired.
External links
[
]