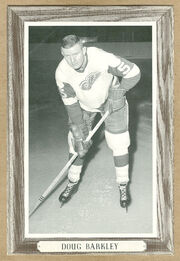 Doug Barkley (born on January 6, 1937 in Lethbridge, Alberta, Canada) was a professional defenceman and, after his playing career, was head coach of the Detroit Red Wings for two separate occasions.
Barkley's playing career ended from an on-ice accident that rendered him blind in his right eye. On January 30, 1966, Barkley, playing for the Detroit Red Wings, was battling with Chicago's Doug Mohns for a puck at the blueline. Mohns attempted to lift Barkley's stick, but missed, and struck the bent-over Barkley directly in his right eye. Barkley would never play again. In 253 NHL games Barkley recorded 24 goals and 80 assists for 104 career points.
Following his career ending injury, Barkley joined the Detroit front office, working in public relations and as a troubleshooter. He was appointed head coach of the Fort Worth Texans in 1969 (Detroit's farm team), and just a year later he was coaching the Red Wings. He coached less than one season before quitting due to the teams slow start. He returned to coach the Wings again in 1975, but lasted just 26 games before being fired and replaced by Alex Delvecchio, a former teammate. He now lives in Calgary, Alberta.
Community content is available under
CC-BY-SA
unless otherwise noted.