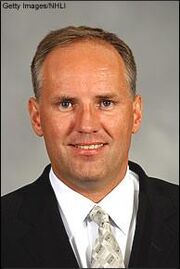 Douglas "Doug" Armstrong (b. September 24, 1964 in Sarnia, Ontario) was the General Manager of the NHL's Dallas Stars. He had been with the organization since 1991, and was appointed as General Manager January 25, 2002. He won the Stanley Cup as an assistant general manager with the Stars in 1999. Armstrong replaced Bob Gainey as GM of the Stars, and one of his first moves was hiring Dave Tippett as head coach. Armstrong is the son of NHL Hall of Fame linesman Neil Armstrong, who was inducted into the Hall of Fame in 1991.
On November 13, 2007, in the wake of a 7–7–3 start and a colossal meltdown by the team in Los Angeles (losing 6–5 in OT after leading 4–0 with 7 minutes remaining in the game), Doug Armstrong was relieved of his duties as the GM for the Stars and was replaced by former Stars player Brett Hull and assistant GM Les Jackson as interim co-GM's. During Armstrong's tenure, the Dallas Stars went 210–109–35–23.
On May 29, 2008, the St. Louis Blues announced that they have named Doug Armstrong as the new director of Player Personnel and sign him to a 2 year deal then when the 2 years are up he will take over as General Manager when Larry Pleau retires. Pleau will stay on with the team but in another capacity upon his retirement.
Community content is available under
CC-BY-SA
unless otherwise noted.