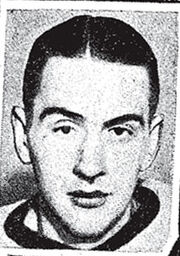 Donald Arthur Willson (born January 1, 1914) is a retired Canadian professional ice hockey forward who played 22 games in the National Hockey League for the Montreal Canadiens. He was born in Chatham, Ontario.
Willson started out in junior hockey with the Newmarket Redmen and St. Michael's Majors from 1931 to 1934. He won back-to-back Memorial Cups with the Redmen in 1933 and the Majors in 1934. In 1934-35 he played with the senior Oshawa Chevrolets.
In 1935 Willson went to Great Britain to join the Earls Court Rangers and played there for three seasons. In 1937 he returned to North America. He played for the senior Verdun Maple Leafs of the Quebec Senior Hockey League, making the First All-Star team. Willson also got into 18 games for the Montreal Canadiens.
Willson played for the New Haven Eagles from 1938 to 1942 and also played another 4 games for the Canadiens. In 1942-43 he joined the Canadian miltary for World War II and played one season for the senior Toronto RCAF Flyers.
After spending 1943 to 1945 in the military, Willson played three seasons for the senior Toronto Staffords and retired in 1948.
He played 22 NHL games (all with the Canadiens), and scored 2 goals and 7 assists.
Gallery
External Links