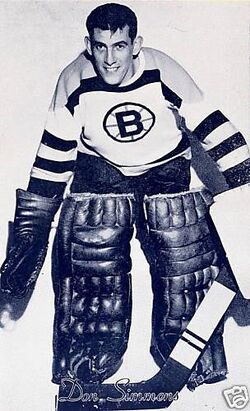 Donald William "Don" Simmons (born September 13 1931, in Port Colborne, Ontario - died September, 2010) was a retired National Hockey League goaltender who played for the Boston Bruins, Toronto Maple Leafs, and New York Rangers.
Playing Career
Simmons played junior for the the Galt Black Hawks (1948-49) and the St. Catharines TeePees (1950-51). He then turned pro with the Springfield Indians for 4 seasons and the Johnstown Jets for one.
In 1956-57 he got his chance with the Boston Bruins, replacing Terry Sawchuk as the regular goaltender. He would play in tandem with veteran Harry Lumley for 3 seasons. He would tend the Boston goal from Feb. 1957 to Nov. 1960, playing in the Stanley Cup finals in 1957 and 1958. He became the second NHL goalie to wear a mask regularly, beginning during the January 10, 1960 game versus the Toronto Maple Leafs.
In 1961 Simmons was traded to Toronto and became backup to Johnny Bower. He won Stanley Cups with the team in 1962, 1963 and 1964. In 1964 he was the victim of the largest shutout loss in Leafs history, Boston 11, Toronto 0 on January 18, 1964.
Simmons was claimed by the New York Rangers in 1965. He played 21 games with the Rangers over the next five seasons but mainly played in the minors until he retired in 1969.
Awards & Achievements
Gallery
External Links