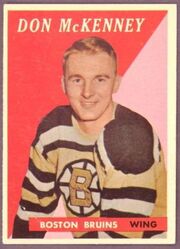 Don McKenney (born April 30, 1934, Smiths Falls, Ontario) is a retired Canadian forward.
Don McKenney played junior hockey and became Captain of the Barrie Flyers from 1950 to 1953, winning the Memorial Cup in 1951 and 1953.
He turned pro in 1953-54 with the Hershey Bears. The following season Don McKenney was brought up to the Boston Bruins and was a leading regular for nine seasons. A pillar of the Bruins powerful offense of the late 1950s, McKenney led Boston in scoring 3 times, finished in the NHL Top 10 for 4 seasons and topped the 20 goal mark seven times. His clean, elegant style of play won him the Lady Byng Memorial Trophy in 1960. McKenney also led the NHL in assists in 1959-60, and played in six National Hockey League All-Star Games while with the Bruins. Don McKenney was chosen Captain of the Boston Bruins in 1961. The new Captain of the Bruins was not able to stem the slide Boston endured during the early 1960s. This downturn marked the low point of the proud franchises fortunes. In retrospect, McKenney played with some of the the best and worst editions of the Bruins.
McKenney was traded to the New York Rangers in February 1963 for Dean Prentice. About a year later, he was sent to the Toronto Maple Leafs with Andy Bathgate for Bob Nevin, Dick Duff, and three others. McKenney won the Stanley Cup in 1964 with the Leafs.
After that year his career waned downhill. He was claimed by the Detroit Red Wings in 1965. The St. Louis Blues chose him in the 1967 NHL Expansion Draft. But most of his time was spent in the minor pros. He retired in 1970.
In the NHL he scored 237 goals and 345 assists in 798 regular season games. In 58 playoff games he scored 18 goals and 29 assists.
He was an assistant coach of Northeastern University and Head Recruiter from 1970 to 1988. He was their head coach from 1989 to 1991. He was inducted in the Northeastern Hall of Fame in 2000.
Gallery
Video
One minute clip of Marc Reaume hitting Don McKenney resulting in Reaume being knocked out, November 30, 1957.
Silent footage from the Bruins-Red Wings game on January 31, 1959. Over six minutes of game play and goals by Gordie Howe, Jim Morrison and Earl Reibel are shown. More silent footage from the Bruins-Red Wings game on March 14, 1959 in which the Red Wings Stu McNeill scores his only NHL goal, a goal by Don McKenney to tie the score 2-2 and two goals by John Bucyk for a 4-2 Bruins win are shown.
External Links