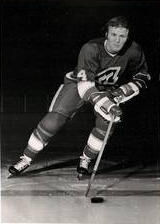 Don Martineau (April 25, 1952 in Kimberley, British Columbia - March 26, 2006) is a former professional ice hockey right wing. He played 90 NHL games with the Atlanta Flames, Minnesota North Stars, and Detroit Red Wings.
He played junior hockey for the Estevan Bruins and the New Westminster Bruins from 1969 to 1972. The Atlanta Flames chose him 50th overall in the 1972 NHL Amateur Draft. Martineau scored 22 goals as a rookie with the Omaha Knights in 1972-73. He returned to the Knights in 1973-74 and made his NHL debut with 4 games for the Flames as well.
In 1974 he was traded to the Minnesota North Stars and played a full NHL season for them in 1974-75, scoring 6 goals and 9 assists. The next year he was traded to the Detroit Red Wings for Pierre Jarry. Martineau saw some action with the Wings but was mostly in the minor pros. He retired in 1978.
In his NHL career. Martineau played in 90 games, scoring 6 goals and 10 assists.
External links
[
]
Don Martineau's career stats at The Internet Hockey Database