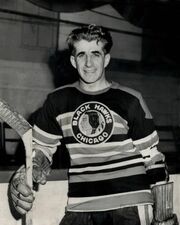 Don Grosso (April 12, 1915 in Sault Ste. Marie, Ontario – May 14 1985) was a Canadian ice hockey forward.
Grosso started his National Hockey League career with the Detroit Red Wings. He also played with the Boston Bruins and Chicago Black Hawks. His career lasted from 1938 to 1947. Grosso won one Stanley Cup in his career in 1943 with Detroit.
Grosso first made a name for himself with the Detroit Mundas AC of the Michigan-Ontario League in 1933-34. He then spent five years in the Northern Ontario Hockey Association with the Falconbridge Falcons, Sudbury Tigers, and Kirkland Lake Blue Devils. He won the Allan Cup in 1937 with the Tigers.
Late in the 1938-39 season the young forward joined the Detroit Red Wings and scored two points in his debut. He also impressed with three points in the semifinal loss to the Toronto Maple Leafs.
After missing the first part of the 1939-40 season to injury, Grosso was a solid role player in his rookie season. After another year spent as a checker, he burst out with 23 goals in 1941-42 while playing with Eddie Wares and Sid Abel. During the post-season he was brilliant with 14 points in 12 matches while helping the Wings reach the finals. That year they blew a 3 games to 0 lead to Toronto but rebounded the next season to sweep Boston in the championship round. Once again Grosso was a top performer with four goals and some determined checking.
In January, 1945, Grosso was dealt to the Chicago Black Hawks as part of the package for Earl Seibert. He was a solid two way performer for his new club but the Hawks were humiliated in the semifinals by Montreal in 1946. A few weeks later the veteran forward was sent to the Boston Bruins for cash but was strictly a utility player before he was relegated to the minors. Grosso spent 2 1/2 years in the AHL including a 34-goal performance for the St. Louis Flyers in 1947-48. He coached the NOHA's Sault Ste. Marie Greyhounds for two years then came out of retirement for four games in 1951-52 before hanging up his skates for good.
Grosso played in 336 NHL games, scoring 87 goals and 117 assists. In 48 playoff games, he scored 15 goals and 14 assists.
External Links