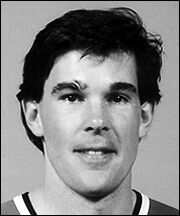 Donald Barber (born December 2, 1964 in Victoria, British Columbia) is a retired National Hockey League forward. He played in 115 games with the Minnesota North Stars and Winnipeg Jets. He scored 25 goals and 32 assists.
Don Barber was a standout at Bowling Green State University in the CCHA, overcoming a knee injury he sustained early in the season in 1987. He was drafted 120th overall in the 1983 NHL Entry Draft by the Edmonton Oilers, even before he played a single game at Bowling Green, and his scoring abilities were confirmed during his college years.
However, even while he was at college, he was part of a big trade with Marc Habscheid and Emanuel Viveiros to the Minnesota North Stars for Gord Sherven and Don Biggs. Therefore it was as a North Star, in 1988-89, that he first saw NHL actions.
Barber split the next three seasons between Minnesota and the minors before he was traded to the Winnipeg Jets, but he could still not establish himself full-time and he was put on waivers.
The Quebec Nordiques claimed him, played him only twice, and sent him to the San Jose Sharks. After a few more games in minor pro in the 1992-93 season, Barber had had enough and retired.
External links
[
]