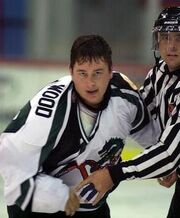 Dody Wood (born May 8, 1972 in Chetwynd, British Columbia) is a retired ice hockey left winger who played 106 NHL games with the San Jose Sharks.
He played junior hockey for the Seattle Thunderbirds and the Swift Current Broncos as a tough player with over 200 Penalty minutes per season. He was selected 45th overall by the San Jose Sharks in the 1991 NHL Entry Draft.
Wood played 13 games for the Sharks in 1992-93, but spent the rest of his first three seasons with the Kansas City Blades. He made it back to the Sharks as a regular in 1994-95. Low point totals sent him back to the minors.
He spent two seasons in Great Britain - 2001-02 with the Ayr Scottish Eagles and 2002-03 with the Nottingham Panthers. Wood retired after the 2003-04 season.
In 106 NHL games, Wood scored 8 goals and 10 assists with 471 penalty minutes.
External links
[
]