Dieppe Commandos

City:
Dieppe, New Brunswick
League:
Maritime Junior A Hockey League
Founded:
1959
Home Arena:
Arthur-J-LeBlanc Centre
Colors:
Green, Yellow, and White
Head Coach:

Troy Dumville

General Manager:

Troy Dumville

Franchise history
1959-1961, 1968-1981, 1993-2008:
Moncton Beavers
1962-1963:
Riverview Jr. Canucks
1963-1964:
Moncton Geldarts
1965-1966,1981-1989:
Moncton Hawks
1966-1968:
Moncton Seals
1989-1993:
Moncton Classics
2008-2017:
Dieppe Commandos
2017-Present:
Edmundston Blizzard
For the senior team that was briefly known as the Moncton Beavers please see Moncton Hawks. For the junior team known as the Moncton Beavers and several other names from 1959 to 1993 please see Moncton Beavers
The Dieppe Commandos were a Canadian junior hockey team from Dieppe, New Brunswick, Canada. They play in the Maritime Junior A Hockey League.
History
The Moncton Hawks were New Brunswick Junior Hockey League Junior A champions in 1981, 1982, and 1983.
In 1983, the Moncton Hawks abandoned the faltering New Brunswick Junior Hockey League and joined the Metro Valley Junior Hockey League which until then was a Nova Scotia-based league.
In the summer of 2008, the Moncton Beavers moved to neighbouring Dieppe and became the Commandos. The Commandos hosted the 2009 Fred Page Cup.
The Commandos lost their first game, since moving to Dieppe, on September 13, 2008 2-1 to the Yarmouth Mariners.
On November 2, 2016 the league announced they approved the relocation of the Dieppe Commandos to Edmundston, New Brunswick for the 2017-18 season. The team moved into the Jean-Daigle Centre which was under construction at the time. The facility will seat 2,400 and is scheduled to open in the fall of 2017.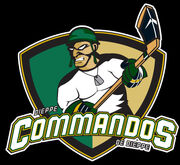 Season-by-Season Record
Season
GP
W
L
T
OL
GF
GA
P
Results
Playoffs
1969-70
40
13
20
7
-
147
199
33
3rd MarJHL
Lost Semifinal
1979-80
36
23
12
1
-
223
193
47
1st NBJHL
1980-81
29
17
10
2
-
214
182
36
2nd NBJHL
1981-82
22
13
8
1
-
201
162
33
1st NBJHL
1982-83
27
22
5
0
-
213
99
44
1st NBJHL
1983-84
40
18
19
3
-
240
229
39
4th MVJHL
1984-85
40
17
19
4
-
204
204
38
3rd MVJHL
1985-86
40
24
13
3
-
221
179
51
2nd MVJHL
1986-87
40
27
10
3
-
245
160
57
2nd MVJHL
1987-88
40
13
19
8
-
190
214
34
4th MVJHL
1988-89
39
27
8
4
-
287
184
58
1st MVJHL
Won League
1989-90
38
6
29
3
-
152
270
15
5th MVJHL
1990-91
40
11
24
5
-
128
181
27
5th MVJHL
1991-92
47
22
17
8
-
230
198
52
4th MJAHL
1992-93
48
22
24
2
0
290
279
46
6th MJAHL
1993-94
47
21
21
5
0
213
223
47
3rd MJAHL
1994-95
48
32
13
3
0
247
207
67
1st MJAHL
Won League
1995-96
53
34
17
0
3
209
198
71
1st MJAHL
1996-97
56
24
25
1
6
279
262
55
5th MJAHL
1997-98
52
29
10
2
1
242
240
61
3rd MJAHL
1998-99
48
24
19
5
-
217
194
55
5th MJAHL
1999-00
52
18
30
2
2
183
231
40
7th MJAHL
2000-01
52
19
29
2
2
202
255
42
8th MJAHL
2001-02
52
25
23
3
1
207
216
54
6th MJAHL
2002-03
52
22
27
1
2
185
217
47
8th MJAHL
2003-04
52
25
19
7
1
192
184
58
4th MJAHL
2004-05
56
21
25
6
4
183
210
52
10th MJAHL
2005-06
56
27
24
0
5
176
208
60
9th MJAHL
Lost Division SF
2006-07
58
37
17
0
4
198
143
78
4th MJAHL
Lost Division Final
2007-08
58
30
22
-
6
213
208
66
6th MJAHL
2008-09
54
34
17
-
3
180
143
71
5th MJAHL
2009-10
50
15
29
-
6
123
195
36
10th MJAHL
Lost Quarter-final
2010-11
52
9
41
-
2
120
254
20
11th MHL
DNQ
2011-12
52
22
26
-
4
167
220
48
8th MHL
Lost Quarter-final
2012-13
52
27
20
-
5
212
201
59
7th MHL
Lost Quarter-final
2013-14
52
28
17
-
7
200
179
63
6th MHL
Lost League Final
2014-15
48
36
10
-
2
232
134
74
1st MHL
Won League
2nd Fred Page Cup
2015-16
48
33
14
-
1
207
160
67
3rd MJAHL, 3rd North
Lost League Final
Season
GP
W
L
OL
SL
GF
GA
P
Results
Playoffs
2016-17
50
27
16
4
3
187
159
61
6th MJAHL, 2nd North
L, DSF 2-4 (Capitals)
External links