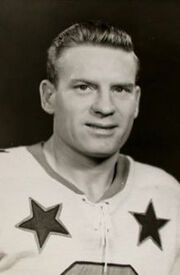 Dick Wray (born Feb. 21, 1925 in County Antrim, Northern Ireland - died Oct. 19, 2015 in Stratford, Ontario) was a Canadian left winger.
He grew up in Listowel, Ontario and played amateur hockey in Stratford. In 1945-46 Wray started his pro career with the San Francisco Shamrocks. After that season he moved to the Victoriaville Tigres of the Provincial Senior League. He then spent two seasons with the Saint John Beavers of the Maritime Senior League.
Wray then spent eight seasons in the Quebec Senior Hockey League with the Chicoutimi Sagueneens, Shawinigan Falls Cataractes, and the Montreal Royals. A highlight of his career was the winning of the Byng of Vimy Trophy in 1956-57.
Wray theb played two seasons with the Clinton Comets of the Eastern Hockey League, winning the scoring championship in 1959-60, his last season in hockey.
He then retired to Stratford, where he worked in insurance.