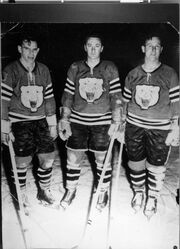 Richard "Dick" Dier was born in Fort Frances, Ontario Canda on June 24, 1935 and died in Green Bay Wisconsin on Feb. 12, 1996 of lung cancer. He played youth hockey in Fort Frances, high school hockey in International Falls, MN spent one semester at the University of North Dakota and played for the Fort Frances Canadians for two seasons in the mid-1950s. Dier, known as "Hawk" to his teammates, was a charter member of the Green Bay Bobcats, and played for the Bobcats from 1958-59 to 1962-63. Dier also appeared in a handful of games for the Bobcats during the 1964-65 and 1965-66 seasons and spent the late 1960s playing in tournaments for his boyhood friend, Bob Rompre on Rompre's Fond Du Lac Bears amateur team.
Dier stood 5-9 and weighed 165 in his playing days and scored 107 goals and added 130 assists for 237 points during his Bobcats career, one of 13 players to score 100 or more goals for the Bobcats in the team's history. Dier was voted the MVP of the 1958-59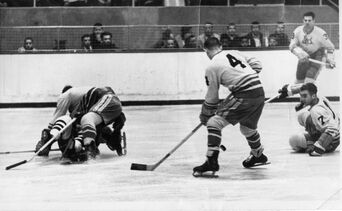 National Senior championship. 
Write the second section of your page here.
Community content is available under
CC-BY-SA
unless otherwise noted.